We met Yasmeen Lari, Pakistan's first female architect, during a break in her Milanese tour de force. Three intense days of events that began with the Ceremony for the awarding of the Honorary Degree in Architecture, followed by the presentation of a monograph dedicated to her, and eventful, fruitful meetings with the students who participated at a workshop on humanitarian architecture.
She is an energetic and enthusiastic woman, almost 80 years old, with a fast and confident manner of speaking, whose only goal today is to bequeath her teachings so that poor Pakistani women can become self-reliant and independent.
HER PROFILE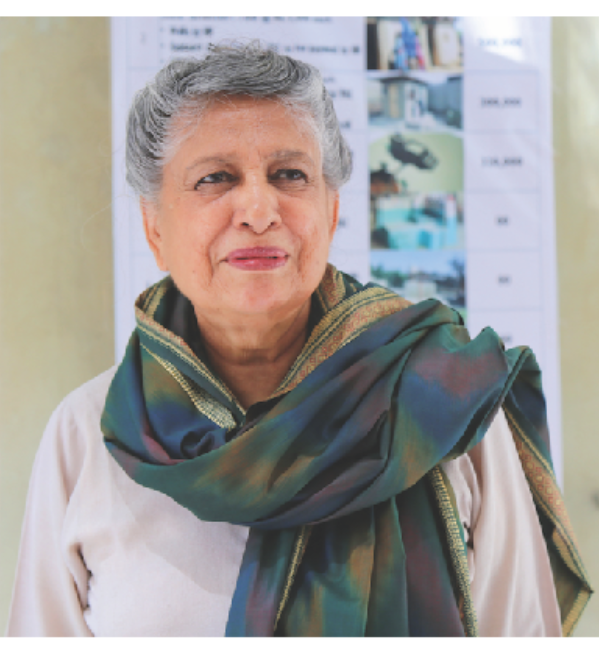 Born and raised in Pakistan, after a degree in architecture at Oxford, she returned to her homeland in 1965 and became the first female architect in Pakistan, challenging patriarchal prejudices and overcoming many difficulties. She founded her professional studio, Lari Associates, Architects and Urban Designers, with which she built numerous public buildings and social housing complexes. The firm's activity closed in 2000, and she dedicated herself to the most disadvantaged areas of her country, building homes and aggregation centers in areas affected by natural disasters. By engaging local workers and renovating local building systems, Lari coordinates informal, carbon-neutral and earthquake-resistant settlement projects.
She is listed as one of the sixty women who have made the most significant contributions to attaining UNESCO objectives. She has received numerous awards and recognitions, has fought for the conservation of the national heritage and to create laws for the recognition of the role of architects and planners in her country. She still carries out intense activist work with various social campaigns to return public spaces to local communities.
THE MEETING
Is this your first time in Milan?
"No, I came here around 50 years ago; I don't remember much, but even then it was a beautiful city and I knew it was the design capital of the world. Over the last few days I have noticed that the city is very well ordered, the old and new buildings coexist well, blending into the surrounding environment. It is a discreet city, and there is an architectural awareness that is visible everywhere.
I was also very impressed by the Politecnico campus, it is remarkable how students, teachers and laboratory experts work together. It really was a very rewarding experience".
9 women on a Honorary Degree Committe, I think this is the first time this has happened at the Politecnico, and you had to come along to have this line-up of female architects!
[She smiles] "Well, I thank you for the invitation, it was incredible, and thank you for having me come here from the other side of the world amidst a thousand bureaucratic complications. I'm not doing anything special [she scoffs] I'm just doing my job, it's just my routine".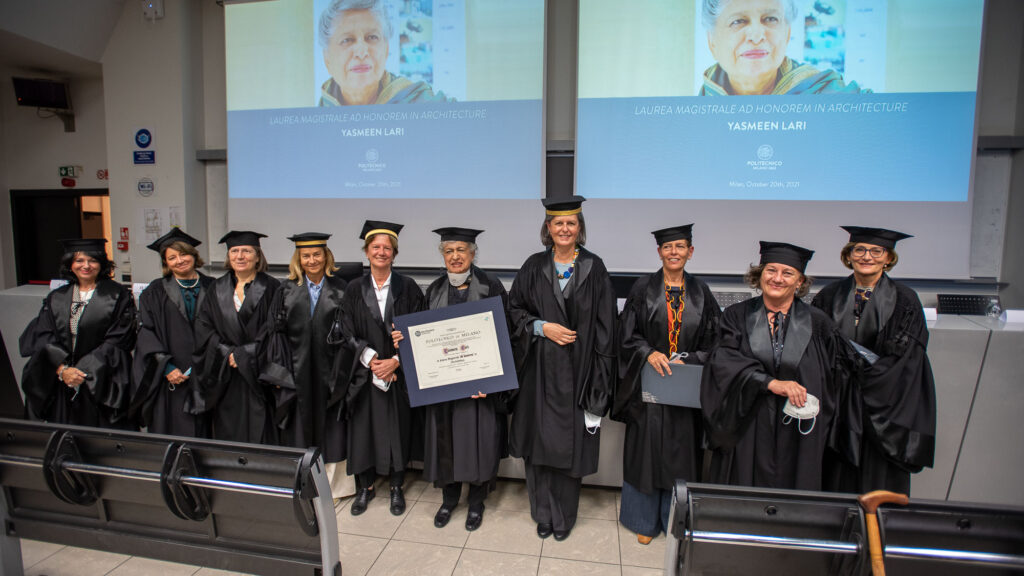 Your lecture at the Politecnico focused on BASA Barefoot Social Architecture? What's it all about?
"It's a real ecosystem, starting with architecture but embracing many other sectors. It all starts with the realisation that wealth lies in the hands of 1% of the population. I was heavily influenced by the French economist Thomas Piketty and I realised that architects don't understand the damage they are doing, why do we only work for that 1%? We have a responsibility for the whole of society. Why don't we build for the other 99%, just because we don't think they will pay us?
But actually, they can pay. 50 % of the population live below the poverty line, but 30/40 % are in the middle and that is who BASA is targeting. There is room for a "barefoot" market, an economy of the poor, of small producers, small entrepreneurs who create products for them, not for the big multinationals, but for a local economy that is spread throughout most of the country".
What objects do they make?
"Small earthenware objects, the soap that saved them in the lockdown, the washbasins where they make the earthenware, the vegetable garden… We need to develop this market of barefoot entrepreneurs, who produce for a market of the poor. They too can actually have great purchasing power, enough to have a better lifestyle.
It's like microcredit, but it's different because they don't produce for the city, they have to sell from a local producer to a local buyer, without intermediaries, so that costs don't increase during the transition.
The beggars of Makli, a large necropolis about 90 km from Karachi, sell their small handicrafts to support entire families, so even if they are very poor they can try to climb the social ladder. The key is to make them autonomous. Humanitarian aid, on the other hand, is dispersed; charity does not lead to development.
In my work over the last 16 years, I have seen that during all the major disasters that Pakistan has suffered, funds come in from all over the world. Europe, the United States, the United Kingdom, the International Monetary Fund, NGOs, the United Nations… they all help with the best of intentions, but they don't realise that they risk hurting the feelings because they are not aware of their culture".
Money isn't everything
"Exactly, because this model of charity, which I have called the Western colonial charity model, is not suitable for sustainable development. In my country, I have seen people become beggars because they start expecting someone to give them something instead of being self-aware and putting their skills and potential to use".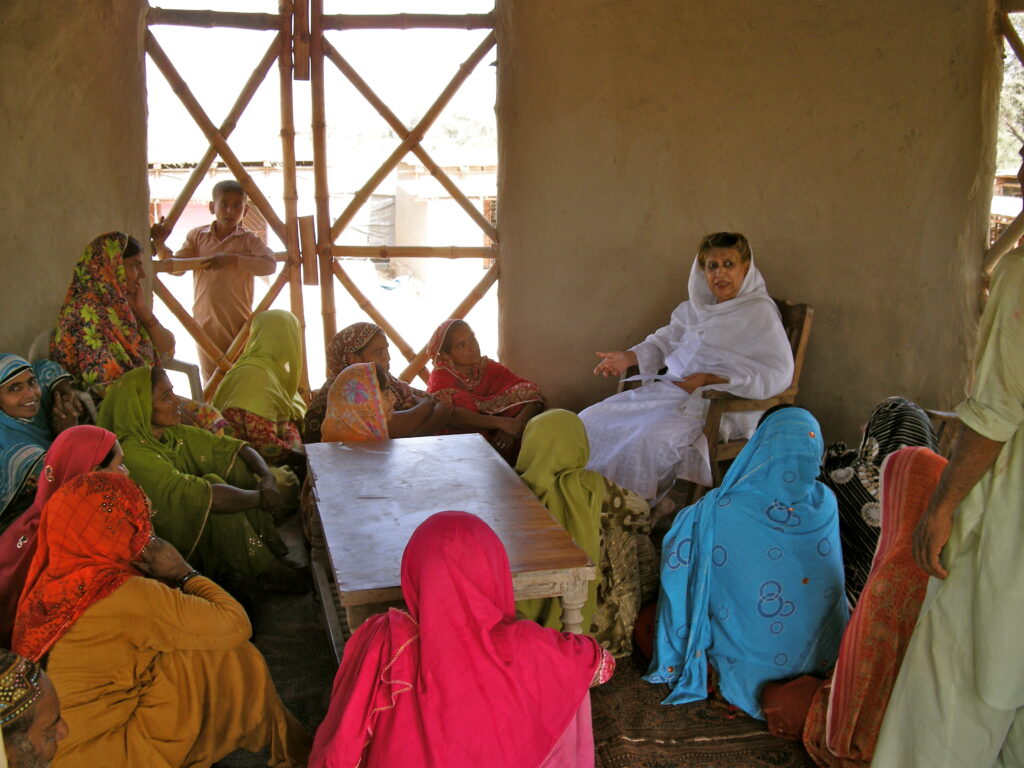 What should we do instead?
"We should also invest in training with credits that the poor have to pay back; only in this way can we change the mentality, including that of the financiers, and give them dignity.
The process is much more laborious and slower, but that's what people want; people are engaged, they want to learn, they don't want to live on aid, and we have to change the way we relate to them".
You therefore chose to work for these 'barefoot clients'.
"Yes, and I treat them better than the clients I had before. I do the work pro bono, but through my non-profit organisation I have taken funds for training, and everyone who works for me is paid, and paid well; architects have to get paid. I felt I had to find a sustainable model; I have always believed in the participatory approach, in co-design".
But it hasn't always been like that; you started your career by opening your own professional studio in 1965, building numerous skyscrapers and public buildings, then in 2000 you closed it down and in 2005, at the age of 65 when you could be enjoying your retirement, your life took a different turn…
"Yes, it happened after the earthquake of 8 October 2005 in the Kashmir region, on the border between Pakistan and India, in a mountainous and hard-to-reach area where I had never been. I didn't climb mountains, but I understood that I had to go, that I had to support those people who had nothing left. I had no money, and it was my husband who gave me 500,000 rupees so that I could go. But what is extraordinary is that then friends arrived, volunteer architects from all over the world; the support – I was no longer alone.
I taught people how to rebuild properly so that it would never happen again, and I set up a team of consultants, engineers and architects to learn how to rebuild better, reusing the only materials available on site; the rubble, the stones, the lime to be made on site, the wood that makes the construction resilient. I didn't want to use cement because it is a pollutant, it's non-breathable and it consumes a lot of energy to produce; I haven't used it since 2002. For the roofs I used galvanised iron (to withstand corrosion). These were all materials that were available locally and which could be used to rebuild very quickly. The inhabitants were involved in the rebuilding process with student volunteers, and 80 to 90 villages were rebuilt as a result.
I had never worked in those areas; it was a great challenge and I learned a lot on the ground. This project made me realise how to build with communities, not for communities.
As a woman I was able to enter women's homes, they could not participate but they made handicrafts, small ceramic beads, I wanted to understand what they did to express the pain they had suffered.
They were in need, but I also needed them. I could actually be comfortable in retirement, writing my books, but I had experienced the plight of these women and now it was my duty to help them, to put myself at their service; they didn't have toilets and I hadn't realised that until then.
And it was there, working with displaced people to rebuild their destroyed homes, that I decided that this would be my philosophy of life, which I still pursue today. That's when I decided that I needed to have some principles to set up a sustainable model based on the 3 Zeros".
So what are these 3 zeros with which you concluded your lecture: "Using the 3 zeros for saving the planet and the destitute of the world"?
"Zero costs for the donor, Zero carbon emissions and Zero waste.
Zero cost for the donor means that everything that is done must be accessible to the poor, so there is no charity. Or one has to find a way to pay back the money that has been loaned, which is much more challenging.
Then Zero Carbon, which means zero emissions, using non-carbon emitting material to help save the planet, and zero waste; there is no need to continue with this wasteful way of doing things, because we know we are harming the planet. We need to focus on a circular economy".
Is there a place for technology in your work?
"Yes, for low tech not for high tech, for the appropriate technologies, because one should not ignore the heritage of tradition. Young architects on the other hand often do not care about tradition and the proper use of local materials. The experience of that earthquake taught me a lot, especially about the real needs of the population; sometimes we impose our ideas thinking they are the best for them, but that is not the right way to proceed. We have to be humble and re-learn, question ourselves. Another point that is close to my heart is designing non-engineered structures. The materials I use are often not accepted by professional engineers, but I had some earthquake tests done on one of our models and proved that it is possible to use very cheap materials that can be found all around us. The trick is to use locally sourced materials, and it is a very sustainable way of building. For me, soil, bamboo and lime are the most important because they are very easily available in Pakistan".
When did you first discover bamboo?
"In 2009, I was in the Swat district, where Malala was, for a UNESCO project to improve local handicrafts, and a severe flood forced us to move to a refugee camp. There I saw that bamboo was widely used by the poor, but it was not used in a proper and safe way.
If you cut down wood, you risk deforestation and landslides. Bamboo, on the other hand, is more sustainable because it grows very quickly, in 2.5 years; it absorbs emissions and purifies the air. To make it safe the project is about how to assemble the various parts, and for that you need specialised architects.
Ecological materials must be sought out in every country, whether building for the rich or the poor".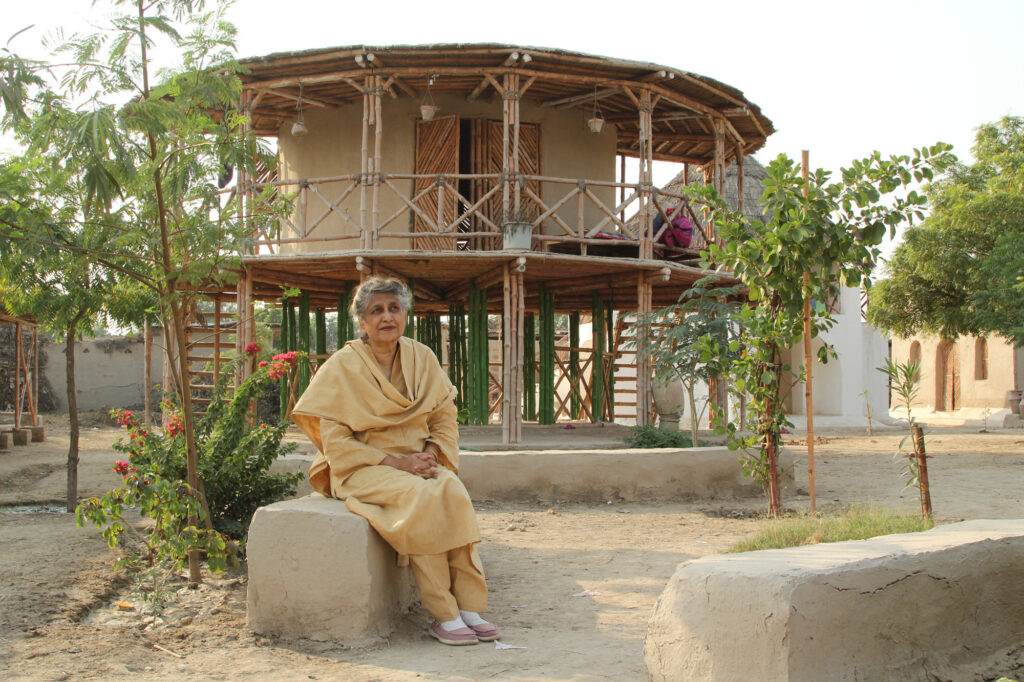 You work a lot with and for women. With your Chula project you revolutionised the way women cook, improving their quality of life. Can you tell us about it?
"Yes, I work with women a lot because they are very committed, they learn quickly, they are motivated by their families and children, and they drive change. I prefer to train women first because they have initiative, and if given a chance they want to prove themselves.
Everything I have done with women has always been successful. As far as the chula are concerned, the project came about from observing their way of cooking.
Generally, the woman cooks by putting down two bricks and lighting the fire while sitting on the ground, but this is deadly because the woman who cooks breathes in all the fumes and gets sick, the children are in danger of getting burnt and everything is dirty. So I designed an elevated kitchen platform, so in case of any floods it stays safe and clean, plus the woman sits as if on a throne.
But the chulas are above all a model of female entrepreneurship, and a shining example of this is Champa, a very humble but very enterprising woman who proves that anyone can become a millionaire. She and her husband have taken it on as a mission, they don't build, but they go to the villages and teach people how to build chulas; they have printed banners, photos and they train illiterate people by showing them drawings".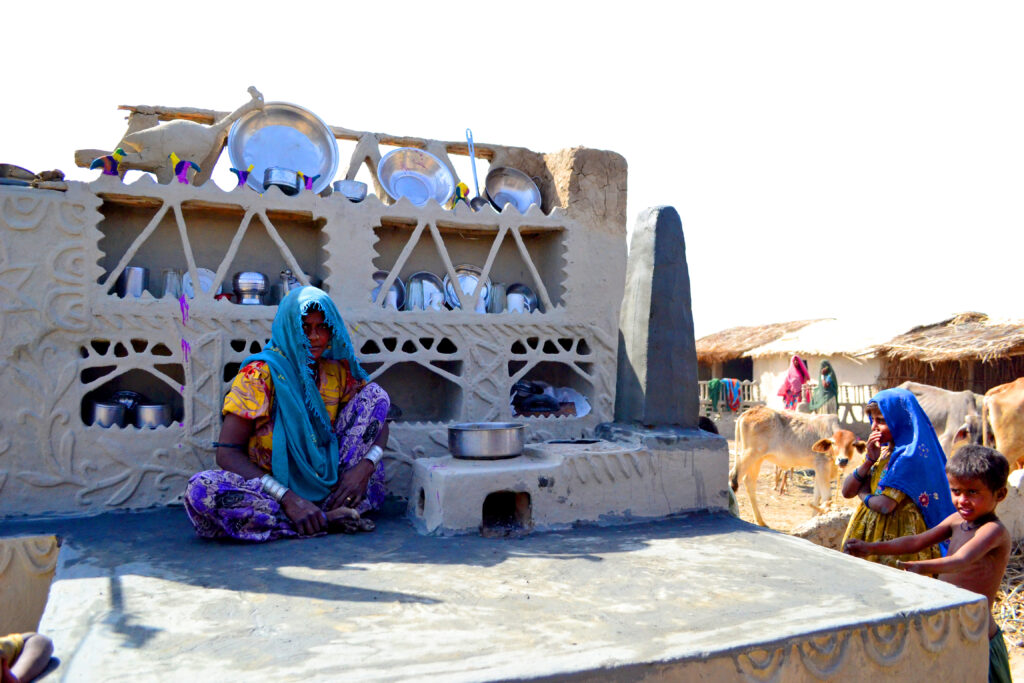 So how have kitchens actually changed?
"Smoke now comes out of a chimney, so it is not inhaled; a single fire feeds two cookers for cooking at the same time, water can be heated on the chimney, there is a sink for washing hands and a place to store dishes. It's a real kitchen equipped with safe and clean outdoor facilities that also becomes a place for gathering and chatting among women, with children all around listening to the stories.
From a consumption point of view it is very efficient, we designed it with a Swiss partner, a smoke expert, who explained the airflow, so with the same wood you can have water boiling and two pots on the fire.
In this activity there are therefore no costs, except for the 1 euro training; the building materials are in fact all on site, they just have to learn how to make lime and bricks. As an architect, I put my technique into it, and they put their creativity into decorating each one in a different and very colourful way. So far, 70,000 have been built.
Champa alone has managed to train around 35,000 families in just a few months and is now a millionaire, earning 25 times more than she was earning six months ago. You should see the jewellery she wears and she even has a photo of her with the President of Pakistan!"
In 1980 you set up the Heritage Foundation with your husband. What have you achieved, and what has been your greatest satisfaction?
"First of all, it was helpful in understanding my roots. There was so much that we did not know and it had to be documented and cataloged to spread the value of the artistic heritage. The cataloging then led to the Preservation Act in 1994 for which I fought a lot and which protected 600 historical sites, which later became 1600. We started in 1980 by restoring the Flagstaff House of Karachi, which was about to be demolished, but now it is a museum, and the first book I wrote documented this work. I cataloged the documents of Makli and Lahore (in Punjab) where I was the national advisor of UNESCO for the Master Plan of the Fort of Lahore.
It was a huge privilege to be able to work on two UNESCO sites, an incredible experience to be there where great kings, emperors and queens once lived.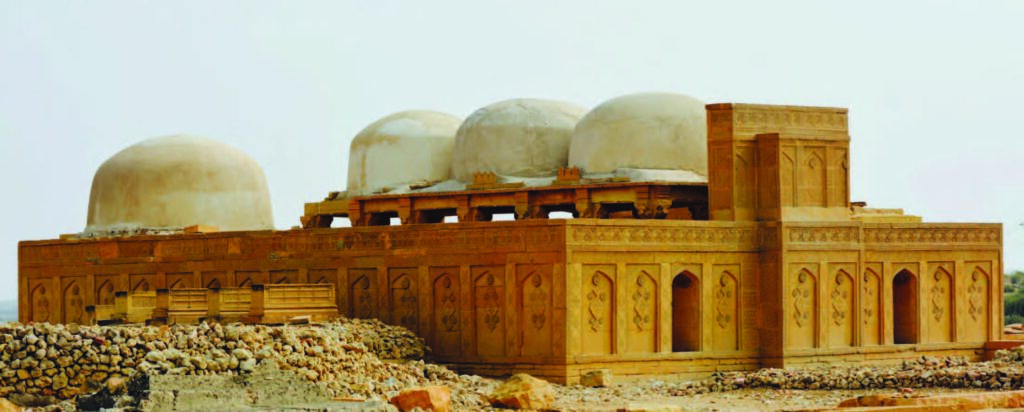 One of the Foundation's activities that impressed me most was the Karavan Karachi, a great party in which all the local population was involved. Every Sunday, for a whole year, we gathered to celebrate a historic building, there were meetings open to everyone, children could make sketches, there were performances, music and suddenly everyone understood how wonderful that city was. And I understood the value of open spaces and there, sitting in the dust among the poor people of Karachi, I lost my Ego and I realized that I could work in another way".
What do you think is the role of architects today?
"There is no specific definition for me; it is no longer like during the Renaissance today, architects mainly engage in large commissions, but the world is changing, with COVID-19 we know that these will decrease so I think we will have to have a new way of designing buildings and a new way of designing cities.
I can only offer my example, I have had so many opportunities, I have been able to design, I have been able to research, I have been able to do conservation, to work at all levels, and it is Pakistan that has given me this opportunity. My country allows me to build, so why shouldn't I? If the poorest people in the world live here, why shouldn't we work for them rather than for the multinationals? So this is the tipping point. And architects are leaders in this, they are the ones who can show the right direction, but I think they have abdicated, they have stopped leading. But every period has its challenges, and right now these are climate change, greenhouse gas emissions, COVID 19, poverty, inequality, conflict, migration, climate change migrants.
Architects are needed, we are the construction experts. We know how to coordinate, how to put so many things together. A building is a very complex machine, you know it has to be assembled in so many different ways and you, as an architect, have been trained to do that, and you can work with communities and apply co-building in a process of co-creation, so why not? Do it!"
And are there any masters who have inspired you in your career?
"I have been greatly influenced by Marco Vitruvio, Hassan Fathy (Egyptian architect and urban planner) and by Le Corbusier".
And do you have heirs to continue your work?
"I am training many young people, and I think this is the way to go, the more you train the more you spread your knowledge. We have also set up video tutorials on YouTube so that anyone can follow us, so even though I am not there now, the training continues. The British Council also wants to distribute the tutorials in Bangladesh and Sri Lanka. I am not required there, the work can now be carried out by other people and I can devote myself to my books".
That's what you said 20 years ago when you closed your studio, but that's when the most intense part of your life began.
[she laughs] "Yes, the important thing is what I'm doing now, with the chulahs, to have helped build 70,000 chulahs means I've helped feed 700,000 people".
What advice would you give to a young Italian architect?
"I think that the aim of architecture is social and ecological justice.
"More than form, I think principles must now be brought to the fore.
It used to be that the finished product was important, but when you work with people there is no finished product. We have to go in that direction, no matter what the style".
What other projects do you have going on now?
"I have a training base camp near the tombs of Makli (a UNESCO site), the Zero Carbon Cultural Centre (Z3C) for social inclusion and environmental sustainability. Here I created a training module that costs very little, we train 3 people per village for 3 days, there is a lodge where they can be accommodated and then they go back to their villages.
We teach them how to make prefabricated bamboo panels with which they can build entire houses: from small huts to large structures like the one in the camp, which is 25m x 16m. But we also experiment, I just built one that floats, and I had a lot of fun! [she laughs]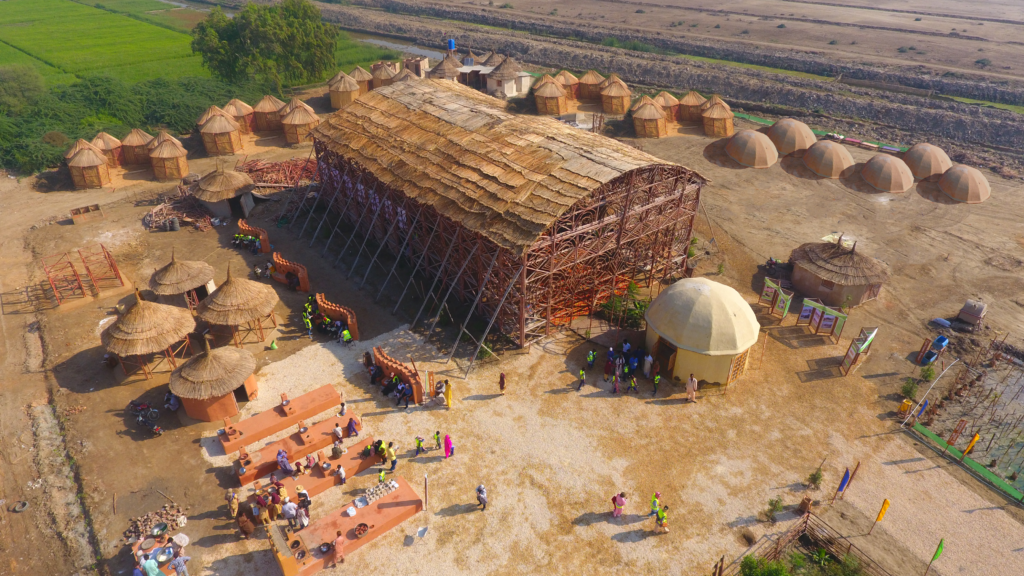 In addition to my work in the field of training, we are working on the streets of Karachi to restore and secure 12 buildings and to pedestrianise public streets in the historic center. It is an innovative public space project; we use terracotta bricks made by local people, which allow rainwater to evaporate making the streets cleaner and less chaotic.
I think it is very serious that people continue to live in rundown environments, we must continue on this path, transform these areas, build affordable housing in the slums, in the low-income areas of Karachi. If we can teach everyone how to build better, I think it will be good for the economy, it will be good for people and we will be able to withstand many disasters. My dream is to make sure that everyone can learn how to build better, and teach it to their children".