Like a phoenix rising out of its own ashes, the Horizon 2020 FENIX project has achieved the aim of giving a new lease of life to electronic waste, turning it into raw materials for eco-compatible productssuch as new metal filament for 3D printing, eco-friendly metal powders for additive manufacturing, and sustainable 3D-printed jewellery. A virtuous example of a circular economy.
We asked Paolo Rosa, head of the FENIX project, to describe to us in detail the research project that has just come to an end after 40 months of work.
Did you succeed in your intent of creating jewellery from old mobile phones? If so, how?
Together with my colleagues from the Manufacturing Group of the Politecnico di Milano School of Management and from the FENIX project consortium, we have succeeded in obtaining jewellery from electronic waste. By connecting various stakeholders virtually, we were able to unsolder the components of the circuit boards of old mobile phones and extract the precious metals, such as copper, tin, gold, silver and platinum, present using hydrometallurgical processes. These we then reused to create custom jewels through additive manufacturing processes.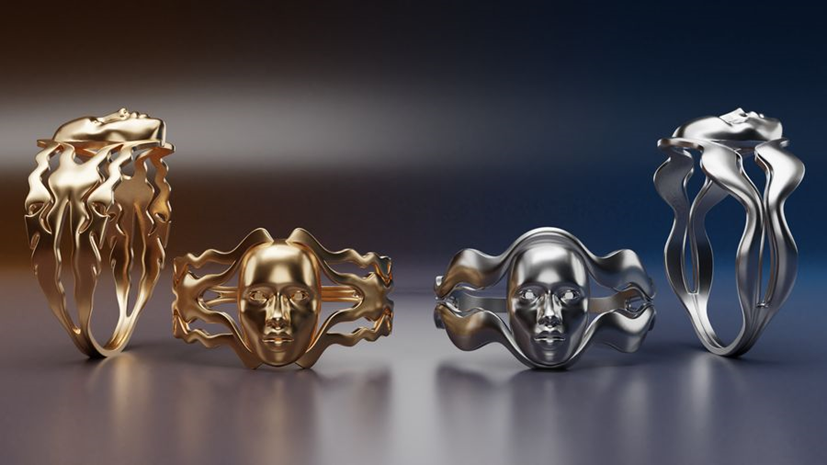 An example of environmentally friendly jewellery printed by the FENIX Consortium with the appearance of human faces
How did the idea come about and how did you effect the transformation?
The idea sprang from the desire to demonstrate the benefits of a circular economy in practical terms. Once we had identified electronic waste as a primary source of materials, we studied a process to recover it from such waste and a number of applications for the materials recovered. The added value of the FENIX project has been precisely this – to have identified markets for recycled materials.
The transformation was made possible by the latest industry 4.0 technologies available on the market. In terms of the disassembly process, cobots, or collaborative robots, help the operator unsolder the components, while the Internet of things and Cyber-Physical Systems make it possible to connect processes virtually and exchange information in real time with other stakeholders/users. Moreover, simulation, specifically Digital Twins, allow systems to be configured even before they are actually implemented.
With regard to the recycling of materials, new hydrometallurgical technologies make it possible to recover the materials contained in circuit boards and their components, while ensuring a low environmental impact and an excellent yield, both in terms of the quantity and the quality of the materials. Finally, additive manufacturing technologies, in particular 3D printing, allow the materials obtained to be reused in the form of metal powders and filaments.
What was your role in the research project?
The Manufacturing Group held several roles within the FENIX project. First of all, we had to identify circular business models and measure their actual circularity. Then, we implemented a semi-automated process for disassembling components from the circuit boards of old mobile phones. Next, we disseminated and communicated the results of the project by publishing scientific articles and books. Finally, we assessed the individual property rights of the project's results.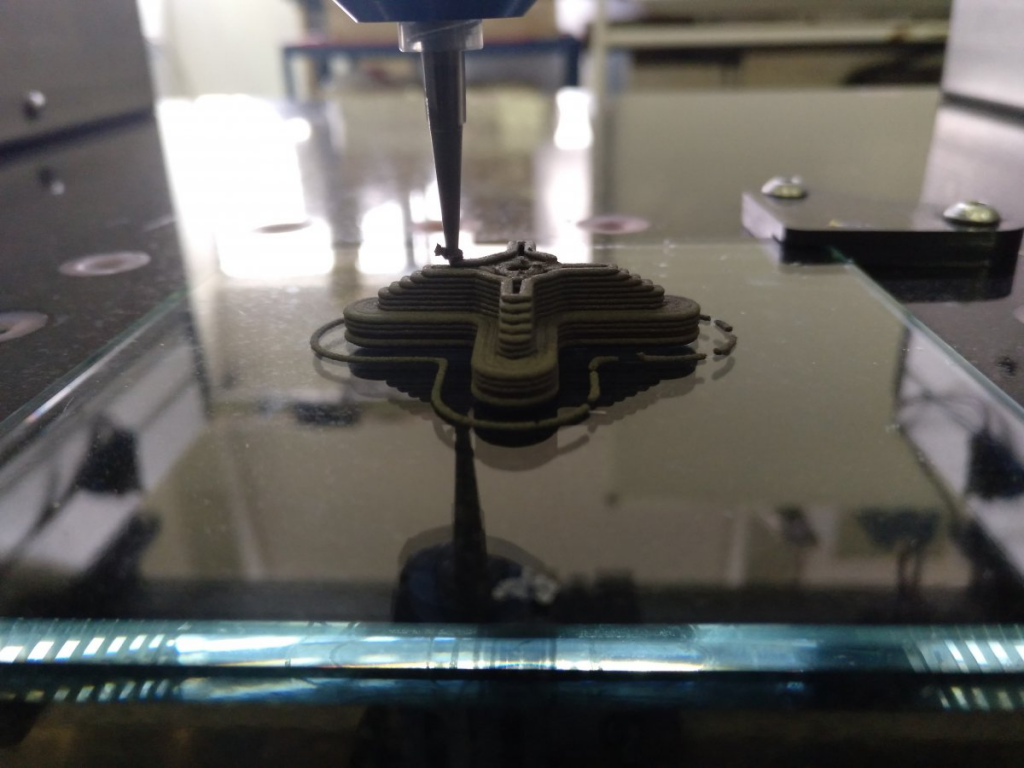 How many work in the lab and what are their backgrounds?
Our laboratory employs 3 full-time people with a background in automation and IT. Moreover, we have about twenty students from various disciplines, especially management, mechanics and automation, who are engaged in writing their thesis and helped us develop new solutions. All this forms part of the activities of the Manufacturing Group, a research team operating in the manufacturing macro-sector, comprising some thirty experts with cross-cutting skills in the fields of management, plant engineering and mechanical engineering.
Have you always been a technology buff or did you make the discovery at university?
I first got into new technologies at high school, whereas I developed an interest in the circular economy during my experience as a research fellow.
What did you study at university?
I attended a technical high school where I specialised in electronics. I got my diploma in 1999. After working for a time in my family's company, in 2009 I obtained a Laurea Magistrale (equivalent to a Master of Science) in Management, Economics and Industrial Engineering from the Politecnico di Milano and in 2018 I got my PhD from the University of Pavia and the University of Bergamo.
How was it working with foreign universities and companies?
Being able to work with foreign universities and companies was one of the most fascinating aspect of this project. It enabled me to collaborate and liaise with experts from different countries, keep up to date with the latest scientific discoveries, and learn many new skills.
The FENIX project involves 11 bodies: three from Italy (Politecnico di Milano, University of L'Aquila and MBN Nanomaterialia), four from Greece, one from Spain, one from Austria, one from Romania, and one from Germany.
How important are the European Horizon 2020 and the forthcoming Horizon Europe calls for a researcher?
For a researcher, these European calls are an opportunity not to be missed out on. They make it possible to finance most of our research activities without having to obtain a scholarship. Moreover, the funding obtained from such calls make it possible to cooperate with foreign bodies and are a great thing to be able to add to your CV.
In what other areas could this example of a virtuous circular economy be applied?
The beauty of the circular economy is that it can be applied to any field or sector. It has no limits. New solutions are generated simply by changing the waste source and/or the recycled materials' reference market.
What advice would you give to a young student fascinated by robotics?
Robotics and all the new digital technologies are key to applying the principles of a circular economy in a corporate context. Given that the circular economy (or sustainability in general) and digitisation are becoming essential for business growth, my advice is to base their studies on these two areas as they will open up many new work opportunities for the younger generations.
What are the next frontiers of your research?
They are constantly evolving. My current research goal is to study new ways of integrating sustainability into businesses through the use of digital technologies. In particular, the Horizon 2020 TREASURE project kicked off on the 1st of June, with the aim of applying the circular economy paradigm to the automotive sector. A consortium of 15 European partners will study how to create new circular economies in this sector, promoting channels of collaboration among all the players involved throughout the life cycle of cars.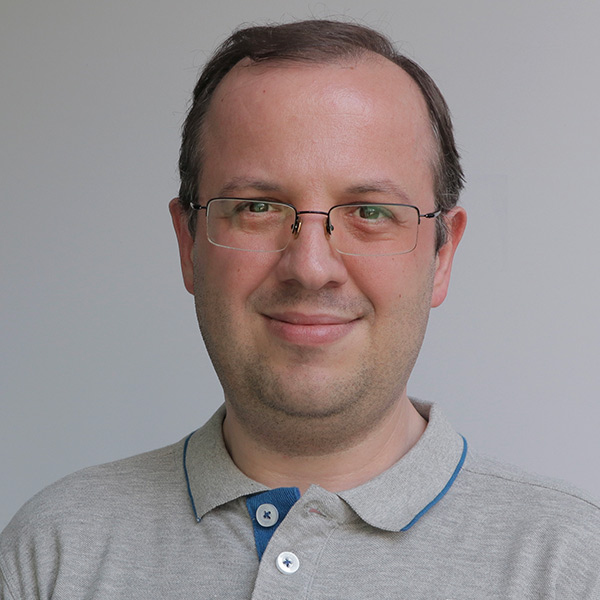 Paolo Rosa is a post-doc researcher at the Manufacturing Group of the Politecnico di Milano Department of Management, Economics and Industrial Engineering Department. In 2009, he obtained a Laurea Magistrale (equivalent to a Master of Science) in Management, Economics and Industrial Engineering from the Politecnico di Milano. He then obtained a PhD from the University of Pavia in 2018. He worked for three years as research assistant at the Politecnico di Milano and ITIA-CNR, working on simulating the life cycle of products, on analysing manufacturing business models, and on the end-of-life management of electronic products. He currently conducts research projects for the Politecnico di Milano, focusing on managing the life cycle of products and the circular economy. He has been (and still is) involved in regional and European industrial research projects and has been awarded two H2020 projects (www.fenix-project.eu and www.treasureproject.eu).